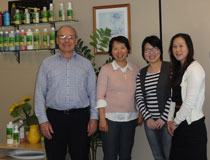 The Bebrite Head Office support team are totally committed to the success of your Bebrite Franchise at all times. Bebrite staff are all trained to work with you to help you build your business, resolve any concerns you might have about the business, and ensure you have confidence in operating your Bebrite Franchise. Our Bebrite Head Office support is based on the best training and ongoing support for you. You will be offered for free Bebrite natural cleaning products, and insurance that is half the cost normally paid. Since 1995 Bebrite's experience in home, office, carpet, move-in, move-out cleaning has lead the industry, and our commitment to only use environmentally safe cleaning products protects you and your customers.
---
Bebrite's – Full and Comprehensive Training
Bebrite has more than 20 years of successfully training new cleaners in all areas of house or home cleaning, office cleaning, carpet cleaning, and then for specialist cleaners wanting to expand beyond these to specialty exterior house cleaning, or high level hygiene cleaning. Bebrite's training program is supported with the Bebrite Training Manual, and operational procedures which are so easy to follow, and are provided to all new Bebrite franchises.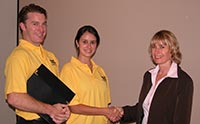 Our Head Office training staff will guide you through each and every cleaning step that has made Bebrite the leader in the cleaning service areas we offer, and will make your business successful. To start your training, you will attend a Bebrite first day introduction, this is mainly a sit down and listen day, when you will meet our team, learn about how we clean, what we do that is different, and how you can learn this too. Cleaning the Bebrite way will make you fast, make you efficient, make you better, and save you time, which is money to you! Our training is personal to you, each new team is trained one on one. Following your Head Office training, you will be then given real on-site training, after which we will work with you on quoting new customers, getting the job, and keeping the job. Once you have been through the Bebrite cleaning training you will have the confidence and knowledgeable in home and house cleaning procedures, how to present to new customers and how to effectively use our exclusive to Bebrite cleaning products. You will have many useful house cleaning tips, systems and guides to help you with many contingencies you will encounter from one day to the next. Bebrite Head Office staff will continue to support you with assistance in quoting and meeting new home cleaning clients. As Bebrite operates in all states and territories around Australia, new teams are brought at Bebrite's expense to our Head Office in Sydney for training in all aspects of Home and House cleaning.
---
Bebrite's – Income & Expense Cash Flow Training
Bebrite accountants will assist you with a simple to follow Income and Expense training program, this is provided in both on-line, and in hard copy, and this will assist you to reduce accounting costs, and to keep a better record of your income and expenses, all part of operating your own business. Our accountants are available to assist – however we cannot give you accounting advice.
---
Bebrite's Equipment Training
During the Bebrite training, you will be shown how to use all of the equipment required to manage a successful cleaning business, and how to present at a customers home, ready to clean, as a real professional, which you will be. Over the years the Bebrite equipment has been refined in order to provide the best possible, and most ergonomic equipment and materials available. This will assist you in reducing strain and work easier to manage. It will also assist you in being more efficient, time is money.