Bebrite is proud of its reputation for excellence, and having our very own labelled high quality cleaning products helps you to show your customers that Bebrite really cares about their home or office. It is also very important for you to know that Bebrite will provide you for free a selected range of these cleaning products, suitable for the level of your franchise, on a regular basis. Other organisations expect their franchisees to buy their own products, or to pay for products as required. With Bebrite, all your Bebrite cleaning products are free.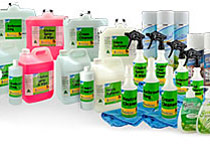 Bebrite Product Support Program
Bebrite's Product Support Programme ensures that all Bebrite franchisees receive the best available cleaning product range; these are automatically sent out to you on a regular basis. If you find that because you have grown your business to a level where you then need more cleaning products, or you are doing work that requires a different type of cleaning product, you are able to purchase or exchange products should you wish to do so. These cleaning products are used throughout residential, commercial and carpet cleaning. We also supply a range of exclusive fabric and leather cleaners, and antimicrobial products, all unique to Bebrite. General cleaning products cover such areas as; kitchen cleaning, bathroom cleaning, hard tiled surface cleaning, timber floor cleaning, surface spray and wipe cleaning; room deodorising and sanitation, and many other products are available on request.