A SECURE CLEANING FRANCHISE FOR SALE IN DICKSON – CANBERRA. A Bebrite Cleaning Franchise is a recession proof business, pays you cash on the day and lets you work where and when you chose.
Be a winner with a Bebrite Cleaning Franchise in Dickson – Canberra
Why buy Bebrite?
Residential/Commercial/ Carpet Cleaning
Genuine and honest GUARANTEED INCOME
Fast return on your initial investment
Earn $33 to $45+ per hour per person – CASH
Earn $60 to $100+ per hour per person for Carpet and Upholstery – CASH 
Genuine Secure Cleaning Business where franchisees report incomes of $3,000 – $20,000+ per month
Some Franchisees are still operating after 20 years with Bebrite
Bebrite Head Office Support with booked jobs and new leads daily
Full and extensive training and ongoing assistance in all aspects of your business
National Franchise Insurance
Over 100,000 customers
Bebrite has operated for over 20 years
Work the hours you choose
No Territory or Suburbs restrictions
200+Franchisees
No Advertising Fee
Flat Monthly Fees
Work in those areas that suit your cleaning business
You will have paid work (cash) on the first day you start work
Bebrite cleaning products are provided to you Free
One new business cost – no other or hidden expense to start
You are the boss, its your new business
Great success stories
Working where you choose to means no stopping your NEW business growth
Cleaning Franchise in Dickson – Canberra
Watson – Ainslie – Braddon – O'Connor – Lyneham – Turner
Dickson is a suburb in the Inner North of Canberra. The suburb contains the Dickson Centre  a significant commercial centre in Canberra's Inner North containing the Woolworths Supermarkets with the greatest turnover in Australia. The centre contains significant office complexes, many shops and established housing.
Outside the Dickson Centre, the suburb contains the Australian Broadcasting Corporation and Canberra radio and television studios. Two colleges are located in the suburb, the Dickson College, a public senior secondary school, and the Daramalan College and a Cartholic high school.
Dickson is a high demand area for house and office cleaning. Bebrite Cleaning Franchise teams in Canberra have been cleaning Dickson houses for more than 20 years and the demand for high quality cleaning continues to grow. Buying a Bebrite cleaning business in Dickson is a great opportunity to start your own cleaning business with the support of a well recognised national cleaning business.
Dickson with medium to now higher density living and many affluent suburbs are the perfect areas to start a cleaning franchise.
To find out more about this great cleaning franchise opportunity in Dickson  from Watson to Ainslie, to Turner, to Lyneham, call Nick the National Franchise Sales Manager on 1300 131 664 to arrange an appointment and hear in detail the cost, the training and support you will receive and why a Bebrite cleaning franchise in Dickson is such a good business investment and cleaning franchise to buy. Make a lifestyle choice and change direction into a new life where you work for yourself but have a large company supporting you.
From the first day you decide to start your own cleaning franchise in Dickson with a Bebrite Cleaning Franchise you will be supported every step of the way. Bebrite provides you with a continuous supply of FREE Bebrite Natural Cleaning Products and the choice of combining House Cleaning with Office Cleaning, Carpet Cleaning, or Window Cleaning. Owning a Bebrite Cleaning Franchise gives you a unique advantage of having no territory restrictions. You can work where you want to work. A Bebrite Cleaning Franchise in Dickson is an affordable business option giving a great investment return in the fastest growing suburbs of Dickson.
You will train with the experts in your area, in house cleaning, office cleaning, move out cleans and regular cleaning services. Carpet cleaning is also an option when you are experienced enough, and perhaps car and boat detailing. Start earning cash on the day you do the job with a guaranteed income which starts immediately you start working.
Your clients can be from large homes, small units, move out cleans or regular services. It is important to understand customer service and customer retention – this is your path to growth.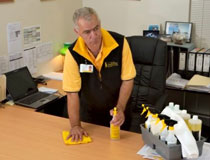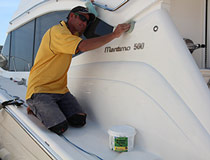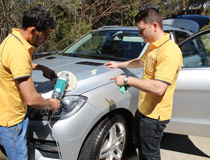 Bebrite provides Great Marketing – Great Promotions – Great Team Work. Compare the Bebrite benefits and what makes a Bebrite Cleaning Franchise in Dickson from Watson to Ainslie, to Turner, to Lyneham, an excellent investment.  
Since 1995 Bebrite has operated one of the most transparent, honest, ethical cleaning franchises with our focus on the franchisees success. We concentrate on the high demand areas of house cleaning including spring cleans, move out cleans, and carpet cleaning.
Our Cleaning Franchise Team
Our Cleaning Franchise team leaders have many years of successful business development experience and ready to work with you personally, to train you, to support you, to ensure you are successful in your new Bebrite Cleaning Franchise in Dickson. A Bebrite Cleaning Franchise in Dickson offers you a genuine investment opportunity for House Cleaning, Office Cleaning and even Carpet Cleaning, all for the cost of one franchise, not three. Bebrite Cleaning Businesses operate Australia wide and are a leader in House Cleaning, Office Cleaning and almost dry on completion Carpet Cleaning. Bebrite also manufactures and distributes a huge range of fantastic cleaning products which can be purchased on-line or direct from our Head Office, just a phone call away – Natural Cleaning Products